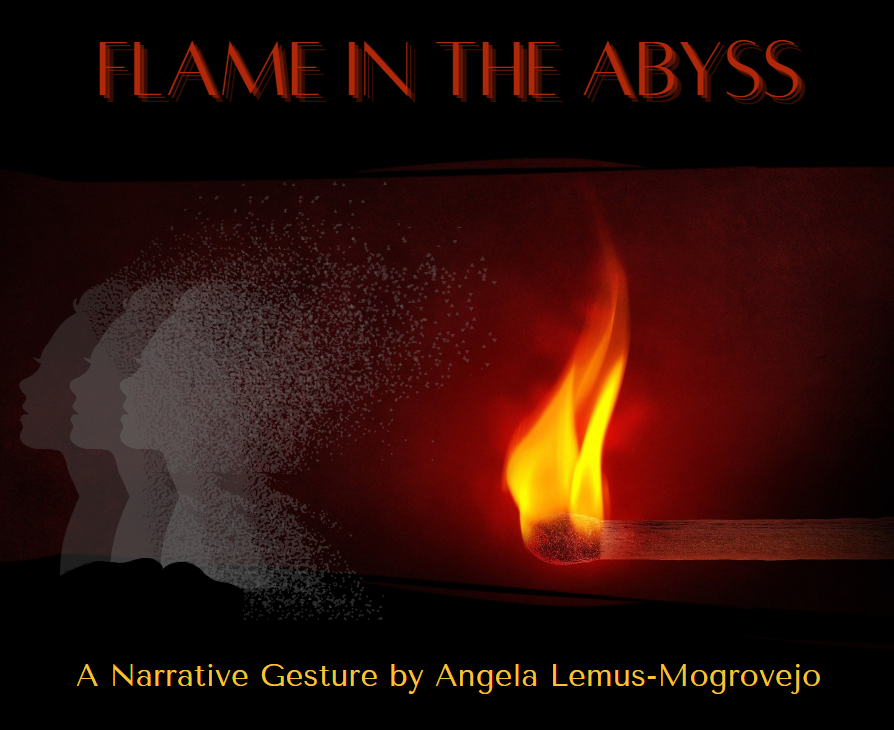 Flame In The Abyss
A downloadable Narrative Gesture
Content Warning: death, divorce, familial abuse, food anxieties, religion, suicide, trauma
You are a traveler, alone and wandering through a world that does not care about you.

As much as you try to push on without letting hardship weigh you down, you nevertheless struggle.

And now, in the midst of your journey, you have experienced a loss whose influence will not let you be.
Flame In The Abyss is a 3 person, GM-less game about memories, grief, and accepting loss.
Players will develop the journey of a traveler wishing to leave the Abyss, an area where memories become fractured and emotions take on lives of their own. Players will each take on 1 of 3 roles, each representing an emotional aspect of the traveler. Together, they will reflect on a recent loss the traveler has suffered and introspectively work their way through the resulting pain.
While many harsh memories and difficult subjects can be brought up in the course of addressing themes like partner separation, death in the family, and losing a religion, the traveler's journey never ends in tragedy. As a group, players will always end the game by having the traveler leave the Abyss and process their loss. How the traveler chooses to make peace with their loss is up to the players to decide.
How will you choose to look back on memories both pleasant and foul?
How will you choose to become the Flame in the Abyss, lighting your way towards recovery and salvation?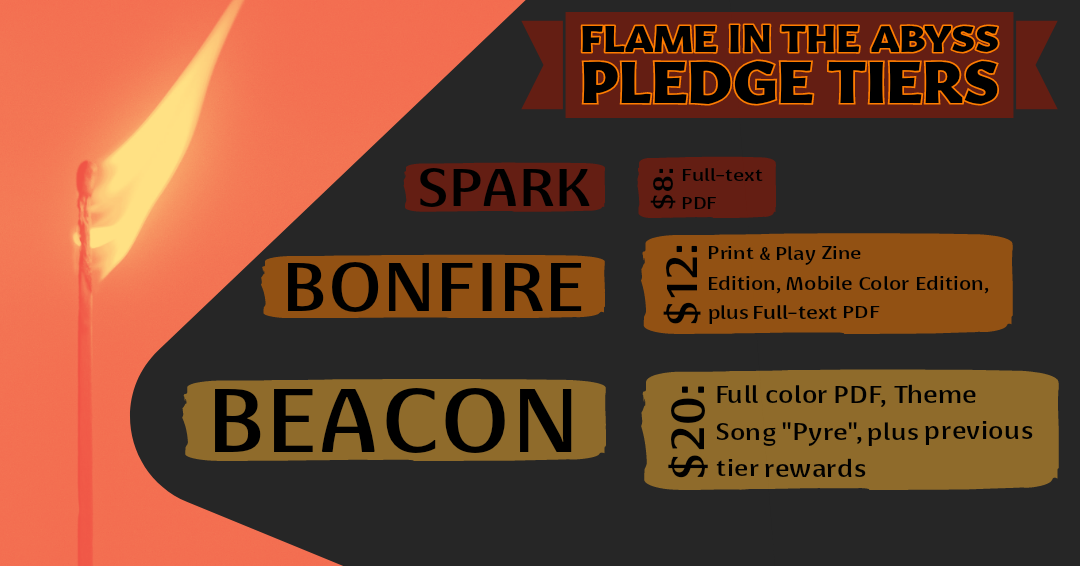 PROJECT DETAILS

Flame In The Abyss initially began in 2021 as a way of coming to terms with the death of my mother a few years ago. After realizing how often grief could resurge in unexpected and conflicting ways, I decided I wanted to write something beyond just a poem or song. I wanted to write a game for the first time.
Taking inspiration from games like quinn b. rodriguez's "your sister's drown'd, laertes," Connie Chang's Halo 'n' Horns, Moss Bosch's This Party Sucks, Alex Roberts' For The Queen, and storylines from the Final Fantasy XIV video game, I created a game to give space for difficult emotions. This game is, at its core, dedicated to not ignoring the weight of loss that becomes all too common as we grow older.
However, rather than remain mired in the muck of despair and grief, this game is instead about sitting with those painful emotions for a while before deciding to let them go.
Pain is commonplace and all too consistent a presence in our journeys through life. The desire to run away from the hurt memories can bring is all too understandable. I know I've run away from my fair share of loss.
Nevertheless, with this game I am asking you to stay a while in the Abyss with others, reflect on the events that have brought your traveler there, and then ultimately leave with a better sense of what you need to heal.
Find the warmth your traveler needs and light the path towards their journey to heal.
Graphic design, layout, and editing support provided by Moss Bosch and Jess Meier.
Playtest feedback provided by Mariam Ahmad, Brandy Rose, @pukepeku, @villainvicencio.
WHAT PEOPLE HAVE BEEN SAYING

"Having experienced more than my fair share of grief and loss in my life I found the game incredibly thoughtful and well paced to explore different aspects of the grieving process, especially the most important aspect of not letting it consume you forever. You finish the game walking towards a future without the one you lose but with new feelings towards the loss and a healthier perspective.

Another detail I loved was the various types of loss portrayed in the game. In ours we explored losing a friendship slowly after growing apart and it was treated with the same care and validity as any other loss.

I highly recommend this game both as an experience and as a tool perhaps towards exploring what is a very complex but essentially human process that Angela has taken great care to create a framework for in this game!" --@thebrandyrose
""Emotional and introspective, I absolutely adored playing this game. The synthesis in the end was chef's kiss"" --@pukepeku
"Emotional and powerful, A Flame in the Abyss is a quick and impactful game to pick up and play. Loss and grief are powerful, and gamifying them lets you mold that power into a shared story which still resonates after play." --@villainvicencio
"Flame In The Abyss is a heartfelt story game of grief and coming to terms with it. While dealing with loss can be heavy, the tools in the game guide you gently from the Abyss to the other side." --@media_junkie

FEATURED IN

Well Seasoned Stories Interview

Well Seasoned Stories Playtest

Purchase
In order to download this Narrative Gesture you must purchase it at or above the minimum price of $8 USD. You will get access to the following files:
Flame In The Abyss Plain Text.pdf
110 kB
Flame_In_The_Abyss (Mobile Version).pdf
1 MB
if you pay $12 USD or more
Flame_in_the_Abyss_Print_and_Play.pdf
195 kB
if you pay $12 USD or more
Flame_In_The_Abyss (Full Color Version).pdf
3 MB
if you pay $20 USD or more
Pyre-Flame In The Abyss Theme.mp3
2 MB
if you pay $20 USD or more
Exclusive content
Support this Narrative Gesture at or above a special price point to receive something exclusive.
SPARK
$8 - Text-Only Version
Pledging at this level gets you access to the plain text document of the game, which includes everything you need to run the game in its entirety in an 8.5" by 11" format.
BONFIRE
$12 - Print & Play Zine + Mobile Version + Text-Only
Pledging at this level gets you access to the Spark benefits as well as both a mobile-friendly version of the full color document and a print and play zine version of the full game as well.
BEACON
$20 - Full Color Version + Pyre Theme Song + Mobile + Text-Only
Pledging at this level gets you access to both the Bonfire and Spark benefits as well as the full color layout of the game designed in an 8.5" by 11" format. In addition to all of the game benefits, backers at this level will get access to an exclusive music track called Pyre created specifically for this game.
Comments
Log in with itch.io to leave a comment.
Hello! This looks great! Do you think it might be played solo?
Hello!
The game was originally created as a 3 person game, primarily as a way of making it easier for others to embody alternate perspectives for the same character.
However, I could definitely see this being refashioned into more of a solo journal game where you go through the same round order and roll for themes but do so alone.
I would be fascinated to hear about how that works out if you choose to test it out as a solo game!